Ave Gladiators!
Try your luck and receive more rubies than ever before!
On Saturday, the 13th of October (00:00-23:59), we will have a Ruby Blessing in Gladiatus and you have the chance to receive up to 60% more of the precious rubies!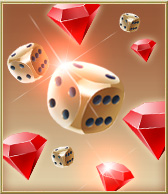 Important information:
If you order during the Ruby blessing, you will receive guaranteed +5% rubies! In addition, you get one die per order which you can roll to receive additional 10%-60% rubies.
But be careful: the die has to be used within 48 hours after the order! So dont wait too long, throw the dices and be lucky!
(Faces of the die: 60%, 40%, 25%, 20%, 15%, 10%.)
Good luck!
Your Team Gladiatus