Costume Event: 31.12.2018 - 07.01.2019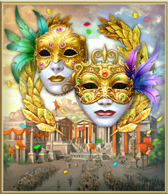 Ave Gladiators!
The costume festival is starting soon!
Rome`s citizens are in a celebratory mood - from 31.12.2018. until 07.01.2019 there will be the costume festival running!
Even the gladiators are clad in their best outfits. During the event period, you can wear your event costumes and also receive fantastic bonuses!
King regards
TeamGladiatus