Costume Event: 25.06.-01.07.2018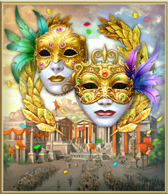 The costume festival is starting soon!
Rome`s citizens are in a celebratory mood - from 25.06. until 01.07.2018 there will be the costume festival running!

Even the gladiators are clad in their best outfits. During the event period, you can wear your event costumes and also receive fantastic bonuses!
*Costume Event won't be running on the newest servers (opened in April'2018) as players on those servers didn't have a chance to get any costume yet. Therefore there's is a microevent for the newest servers planned, details will be provided soon*